India's Leading Air Compressor Manufacturers In Ahmedabad, Gujarat
We know that the needs of our customers are unique, as well as our air compressors are the best quality air compressor that has quickly developed its strong reputation by offering the best products on the market and incomparable working protocol. We're backed highly trained and experienced in all types of air compressor material, including copper, black iron, steel, galvanized, and aluminum. Our pick up, delivery, and relocation of equipment are on time and all comes within the budget of the client. No project is too big or too small for us here at Saimona Ltd.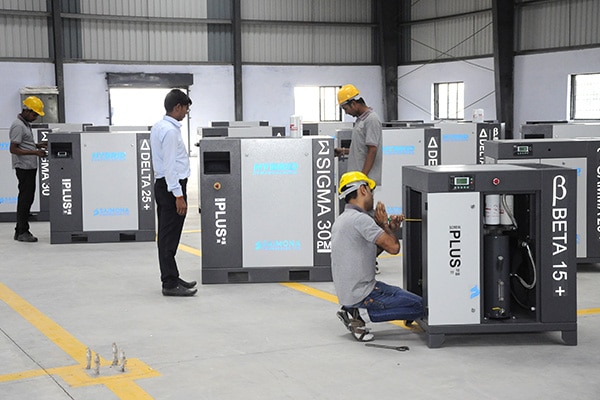 We are most trusted and reputed brands in screw compressor, PM screw technology power saving compressors & two stage screw compressors. With advance technology we build and manufacture air compressor to any industries which require such compressor and continually evolve in manufacturing company in Rotary Screw Compressors. We the most trusted brand for the air compressor and screw air compressor which consist of Industrial Air Compressor, Belt Drive Silent  Screw Compressors, Two Stage Screw Compressor, Hybrid Kompressoren and the like.
We are eminent air compressors exporter in Gujarat we offers a wide variety of air compressor that are tailor made by our trained support team. We are trusted brand and deliver on time.