Belt Drive Silent Screw Compressor Manufacturer & Supplier in India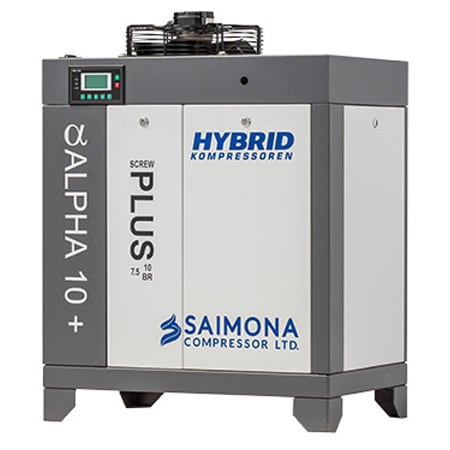 At Saimona Ltd we are the main manufacturer, wholesale, trader of Belt Drive Silent Screw Compressors and much more. We offer these compressors at an affordable rate. We employ the most modern technology & machinery to carry out production and other related processes perfectly. We work as a team so that we could deliver products at the right time. Our belt drive silent screw compressors with V-belt drive provide outstanding efficiency and reliability. They feature the energy-saving SIGMA profile rotor and a SIGMA controller and are available in all series as per standard models. Our supplied belt drive silent screw compressor is an add-on for refrigeration dryer for high compressed air quality and/or to monitor speed and control motor for a large flow rate control range.
A silent air compressor is designed with noise insulation features, and the periphery is designed with a cover, which helps to dampen the sound immensely.A belt drive compressor consists of a belt that is connected to the motor of the compressor pump. When the motor runs, the belt turns, powering the pump to your air compressor. When using a direct drive air compressor, the crankshaft is connected directly to the compressor's motor.
A belt drive silent screw compressor is a type of rotary screw compressor in which a belt delivers energy from the motor to the compressor pump. The belt drive construction offers increased flexibility in pressure, and our 5 – 50 horsepower compressors are targeted to efficiently and reliably deliver compressed air for numerous industries and uses. We manufacture a highly reliable flow of compressed air with minimal loss of power from the motor to the pump. This means the ongoing operating costs of belt-driven compressors can be lower than any other option. We offer standard compressor that has after cooler reduces the amount of water that must be removed by an air dryer, adding an additional layer of protection for downstream moisture-sensitive tools and equipment. Overall, our standard features improve safety, efficiency, and performance across the board. Our experts' team offers a wide range of options at different capital investment levels. Across our product line, costs remain controlled thanks to our fully integrated manufacturing operation with efficient production and stringent, integrated QC that passes on quality and cost savings to you and your customers.
Belt Drive Silent Screw Compressors :: Belt Drive Silent Screw Compressors Manufacturer :: Belt Drive Silent Screw Compressors Supplier :: Belt Drive Silent Screw Compressors Exporter