Rotary Screw Air Compressor, Supplier of Rotary Screw Air Compressor, Rotary Screw Compressors, Rotary Screw Air Compressor Manufacturers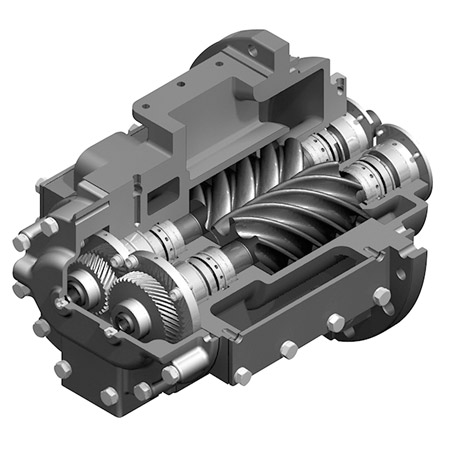 Our manufactured rotary screw air compressors are being operated by trapping air between two meshed rotors and reducing the volume of that trapped air as it moves down through the rotors. This reduction in volume results in compressed air, which can then be used to power air tools, inflates tires, or in numerous other application. We manufacture are complete range of high efficiency, oil-free two-stage rotary screw compressors to further enhance its successful and award winning D-Series. We are the most leading Screw Compressor Manufacturers in Ahmedabad that has air compressor that purifies air that meets the most stringent hygienic standards and are certified oil & silicone-free screw compressors.
We conquer both the domestic and international market to cater the need of the clients requirement. Our designed and manufactured two-stage are oil-free and silicone-free air. Our Two-Stage Rotary Screw Air Compressor is a growing demand for higher quality, oil-free compressed air that meets the stringent quality standards. Whether it is needed for food and beverage or chemicals production, supply of pharmaceuticals, electronics or sensitive components, manufacturers will no longer accept the risk of product or equipment contamination.  We guarantee to provide efficient and excellent high quality motor, along with legal conformity, high reliability and operational safety. These are great benefits in addition to automated motor lubrication which offers low noise levels, low pressure loss and excellent cooling performance.
Rotary Screw Air Compressor :: Supplier of Rotary Screw Air Compressor :: Two-Stage Rotary Screw Air Compressor :: Rotary Screw Compressors :: Rotary Screw Air Compressor Manufacturers