Screw Compressor, Screw Compressor Manufacturers in Ahmedabad, Screw Compressor Spares Exporters, Screw Compressor Manufacturers in India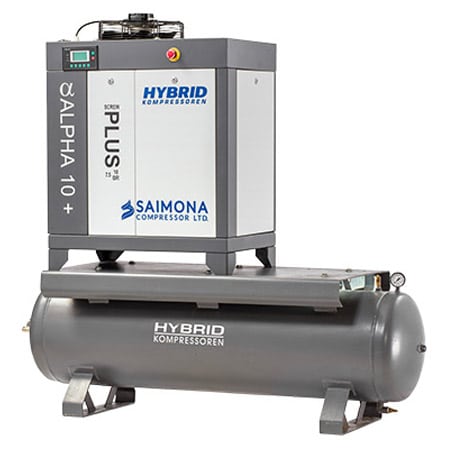 We are leading screw compressor manufacturer in Ahmedabad  that are used in common industrial applications and replace more traditional piston compressors where larger volumes of compressed gas are needed, e.g. for large refrigeration cycles for compressed air systems or chillers to operate air-driven tools such as jackhammers and impact wrenches. We facilitate Screw Air Compressor that is energy saver with simple intelligent operation. We are well-known supplier of Screw Air Compressor that makes less noise and easy to maintain. Our Belt Drive Silent Compressors are based electronic controller that can do recording all operational malfunction situations for easy periodical maintenance and repair. 
It is a password protected compressor against unauthorized manipulation which consumes less power. This make us stand out as Hybrid Kompressoren Manufacturer in the domestic and international market. It comes in many types of model like sigma, zigma, mega, giga, tera, peta and the like with outstanding power and pressure capacity. The flow rate is excellent and the maintenance is easy and has intelligent PLC Control Panel.
A dry screw compressor consists of two rotors, closely mating pair that is installed in a tight clearance cylindrical bore. As the two rotors rotate, volume in their grooves reduces thereby compressing the refrigerant. We are an ISO 9001:2015 certified company engaged in manufacturing and exporting of Air Compressors that are manufactured using the supreme quality raw material; these products are famous for their hassle-free working life, resilience, high performance and low maintenance. Our air compressor comes in various collections that meet the diverse requirements of our clients.
We are backed with our expert team to assists us in manufacturing air compressor that meets the set industry standards and norms. Our company also makes sure to deliver the entire range as per the requirements of our clients. With the help of our expert's team, we have been able to serve our clients in the best possible manner.
Screw Compressor Manufacturers in Ahmedabad :: Screw Compressor Spares Exporters :: Screw Compressor Manufacturers in India